Description
Semi-automatic rotation type hydro testing machine
The machine finishes the water pouring, hydraulic test, air pressure water draining out by independent step. There is transportation channel at the down part, which forms a complete set with conveying line .It adopts the water pump supplying and can be used circularly.
electric motor power:9KW
rotating speed of roll-over stand :2rpm
air pressure:0.6~8MPa
power voltage;AC380V+N  50HZ
Capacity: 90pcs/h
Station qty: 6
Pressure keeping time: 2 minutes.
Overall size: 3600 x 1600 x 2700mm, 800 x 500 x 850mm, two package
Overall weight: 2800kg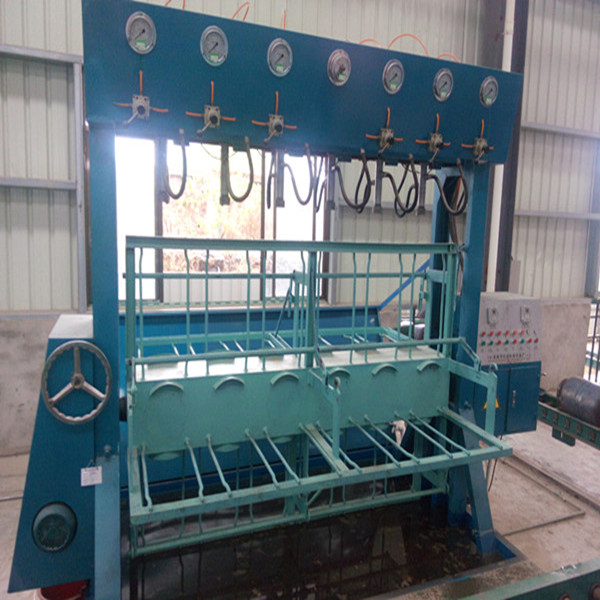 Operation instruction
Using hydraulic testing machine, plug, air supply, worm gear oil in the tank, the pneumatic switch pull the head in the highest position, press the "spin" button, overturning frame according to the specified direction of no-load running, check whether the running normally.
At work, turn will pull rod cylinders placed on the shelf, back pressure rod, "forward" button, reverse rotation, travel switch to stop. The cylinder valve seat on the head, one by one pull (valve, make the head down pressure Angle of the seat, if there are individual pressure head in place, no pressure can pull (corresponding to the hand valve, to bring pressure head, modifying the positions of the bottle, to pressure the seats. Press the "add water" button, add water pump start-up, stop automatically after water filling ."Pressure" button, the booster pump to stop automatically when setting pressure, whether cylinder leaks, (in the process of pressure and pressure, if found leaking to the bottle of the corresponding electromagnetic valve switch is closed, at the same time make the mark.)Holding a minute later, automatic pressure relief, click on the "compression" "stop" button of the corresponding pressure head up return, then press the "spin" button, turn to the next station to stop, try to remove good cylinders, put the cylinders, try again end of such a work cycle.
Our Service
* Inquiry and consulting support.
* Sample testing support.
* View our Factory.
* Training how to install the machine, training how to use the machine.
* Engineers available to service machinery overseas.
FAQ
LPG cylinder manufacturing equipment
Q: What size of LPG cylinder your machine can produce?
A: 6kg, 12kg,15kgs and 50kgs LPG cylinder for cooking and other size according customers' requirement.
Q: Can you design machines according LPG cylinder technical drawing?
A: Sure, please send your technical drawing to us.
Q: What are the benefits to choose your machines?
A: Our machines are strong and reliable for long term industrial manufacturing
To enable me give you correct proposal for correct machines, please tell me following details:
We need to know following information to quote you correct machineries:
1.Technical Drawing of the cylinders you want to make?
2.What size of cylinder you want to produce?(6kg, 12kg)
3.What diameter and thickness of the cylinder you want to make?
4.Are you new in this area or you already have some machines in the workshop?
5.Capacity you require, i.e. how many pieces and sizes you want to make per day?